CNC Mini Mills Enable Medical Manufacturer to Produce an Artificial Disc that Could Revolutionize Treatment of Back Injuries
With the help of a CNC turning center, Southern Medical is producing a disc implant that they believe will one day lead to disc replacements being as common as hip and knee replacements.
It's estimated that at some point in their lives four out of five adults will experience back pain, most often due to wear and tear, but occasionally as the result of neglect or an accident. Top of the back injury list is what's commonly referred to as a "slipped" or "ruptured" disc -- more correctly known as a herniated disc.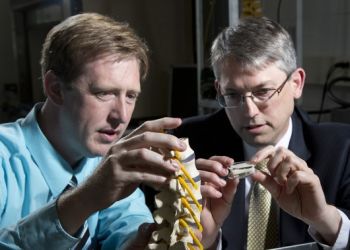 In the least severe cases, remedying a herniated disc involves nothing more invasive than rest and cold compresses. For more serious cases -- those in which a disk fragment actually lodges in the spinal canal causing a loss of function -- a surgical procedure involving the removal of the damaged item, the insertion of a structural cage (to maintain support of the spinal column) and fusing of the vertebrae may be necessary. It's an operation that's often performed reluctantly. After all, fusing a structure that depends upon its inherent flexibility to be effective is less than ideal.
Until now, fusion has offered most patients the best long-term "cure". But, thanks to the innovations of bio-medical engineering group Southern Medical, the need for vertebrae fusions may soon be a thing of the past.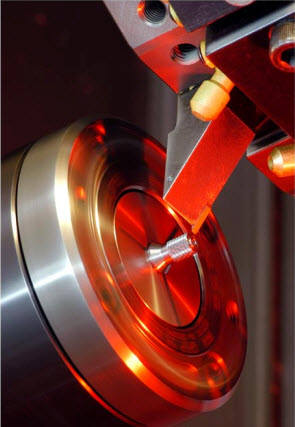 At first, the company started making vertebral cages, known as anterior inter-body fusion devices. These are small polymer structures that are inserted into the spinal disc space to maintain the correct angle and height of space, so that the bone can fuse around it.
When an individual vertebra is fused, the adjacent levels of vertebrae have to compensate for the loss of articulation. The increased stress can have a knock-on effect. According to co-founder Malan De Villiers, many vertebral fusion patients have to return later in life to have additional surgery.
De Villiers and his team felt there was a need for an alternative, a way in which the damaged disc could be removed or replaced without a loss of mobility. The company began looking at creating an artificial disc.
Its efforts resulted in an implant that provides the support and movement characteristics of a healthy vertebral disc, and avoids the need for fusion.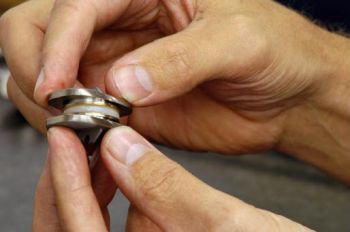 The unit"s simple structure comprises two Grade 5 titanium end plates sandwiching a low-friction polyurethane meniscus. Grade 5 titanium is characterized by its high osteoconductivity, and is ideally suited to serve as osseointegrated bearing plates. It has high corrosion resistance, and it"s also MRI compatible, for good imaging.
Important though the choice of material was for the new implant, achieving a suitably high level of quality and surface finish was an equally high priority. To pass stringent FDA regulations means that the implant has to reach exceptional manufacturing standards. Although the company already had a well-equipped machine shop, a new set of tools was most definitely in order.
The Sharpest Tool
Tucked away on the company"s 45,000-square-foot campus is a small but busy CNC workshop run by precision engineer Jan Hugo.
"When we decided to look for new CNC machines for the on-site workshop, I found out what was on offer and made a list based on cost and performance," he says.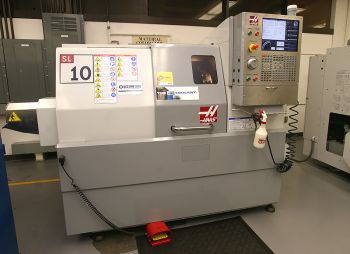 The company invested in two Haas CNC Mini Mills -- one with a 4th-axis rotary table -- as well as an SL-10 CNC turning center.
"Some of our products have quite complicated surfaces, so the programs can be large," Hugo adds. "The Haas 4th axis allows us to carry out this complex machining without the need for fixings or workholding devices. It makes the whole process quicker and much easier."
To be effective, it's essential that the surfaces of a surgical implant are flawless and true. No amount of polishing will make a poorly finished component useable.
"With the Haas machines we're getting very close to the final surface finish we need," says De Villiers. "When we do polish, we know that all the surfaces are going to be congruent. To comply with our quality standards, we check every single part we make, but we don't really need to."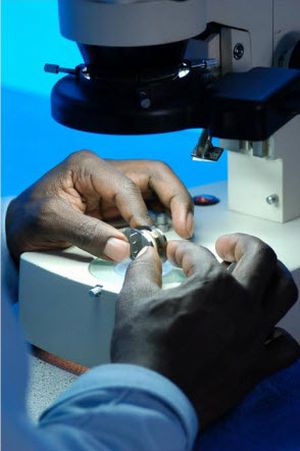 Hugo adds: "At times we've had to sub-contract some of our milling work. The finish we were getting from our supplier wasn't as good as the finish we get from the Haas machines. I'll be honest, when we bought the Haas machines we weren't expecting to get such good surface finishes."
As the company pushes forward with the development and certification of the implant, the Haas machines are running an average of 16 hours a day, 6 days a week. Having them on-site means that communications between the designers and the manufacturers are facilitated; changes and revisions in the design can be made quickly and easily. Productivity considerations aside, De Villiers sees other advantages to having a shop full of new machines close-to-hand.
"Having the Haas machines here also allows us to show customers exactly what we do," he says. "We often have surgeons who come here and want to see the whole process. On a tour of the campus, we can take them around the quality control facility, administration, packaging, etc., and if they want to see how the product is manufactured, we can show them the Haas machines in action, instead of having to drive them 30 miles out to the main factory."
The Big Question
The design of the Southern Medical disc implant allows for translation of the meniscus during articulation, accurately mimicking the natural movement of the spine. The slightly posterior location of the implant's center of rotation is similar to the mechanics of lumbar discs, and allows natural arcs of rotation and normal movements.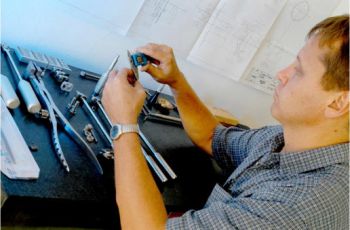 "Our aim is to simulate the articulation of the spine as closely as possible," says De Villiers. "The further one gets away from that natural movement, the worse the overall result will be."
The implant's unique retention device -- centrally located in the meniscus -- allows a load-bearing surface up to 50% greater than other arthroplasty devices, the company claims. To reduce wear, the articulating surfaces of the end plates are provided with a titanium nitride (TiN) finish.
The company's accelerated testing predicts less than 2% wear in the meniscus over an 18-year period. But perhaps the most significant improvement over older technology is the patient's recovery rate.
"The surgical technique for placing the implant is compatible with a micro-invasive approach," says De Villiers. "We've also developed patented instrumentation to facilitate placement."
Typically, the patient is able to walk around a day after the operation, and between two and four days later, some patients are discharged from the hospital.
"In the past, the patient would be in hospital for 5 or 6 days, and would then have to wear a brace for a month or 6 weeks," claims De Villiers.
Overall, both the direct and indirect costs of a disc implant operation are less than a spinal fusion. The operation is quicker, the time in the hospital is shorter, and the patient gets back to work sooner and is less likely to need revision surgery at a later date.
For spinal disc surgery in general, the $64,000 question is whether disc implants will become as common as hip and knee joint implants are already. The signs are good. Even the most conservative official sources estimate that at least 30% of future cases traditionally requiring spinal fusion will be treated with replacement discs. For Southern Medical, the early-mover advantage it has secured by its astute application of design and manufacturing technology will help ensure continued success when that day comes.
Want more information? Click below.