Integrated Sawing and Machining Center Produces Precision Parts in One Continuous Process with No Operator Intervention
Rattunde Corporation introduces the ACS + CFMcurve integrated sawing and machining center. An exciting new technology, the ACS Sawing Machine is the new industry standard for cold saws. It utilizes a proprietary sawing algorithm with servo motor controlled feed to continuously adjust critical sawing parameters during each cut. The results are the fastest sawing times, best surface finish and longest blade life available on the market.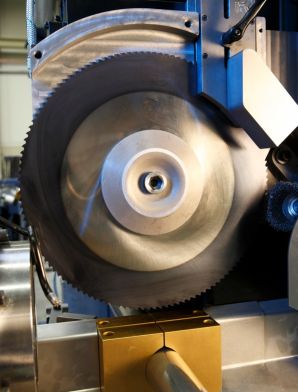 The CFMcurve machining center is a patented Rattunde process that simultaneously machines each workpiece end, using 12 independent servo-controlled axes. Machining options include: threading, boring, profile turning, grooving, radius edges and angled chamfering. Programming screens guide operators for quick setup on even the most complex part geometry. No special programming is required.
Precision parts are made in one continuous process with no operator intervention. Bundles of mill length stock, up to 16.5 meters (54') long, are placed in an automatic loader, individually separated and fed to the sawing process. Cut parts are then transferred to the CFMcurve machine for precise finishing. Utilizing advanced CNC controls, linear ball screws and servo motors, all mechanical motion is seamlessly integrated into the machine design for full process control.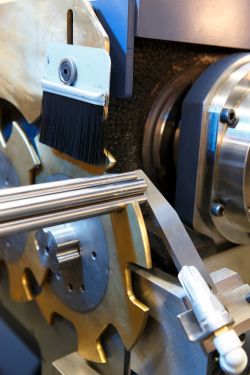 A tubular component of 70mm diameter, wall thickness of 5mm, material type ST52-3 BK, with a length of 150mm, machined with a 30 degree chamfer on the ID & OD with a faced end has a saw time of .96 seconds, a machined time of 1.86 seconds and the machine can produce 1,820 parts per hour, inspected for length and automatically packaged. Cut length tolerance of +/- 0.15mm at 1.67 CPK and a machined length tolerance of +/- 0.05mm at 1.67 CPK are maintained with consistency.
The operator interface saves part files for instant recall when changing parts. Servo motors move all cutting and machining tools to their exact positions and implement saved parameters. No tooling change is required in the ACS Saw within a diameter range of 10mm; there is a 5mm diameter range in the CFMcurve. Tooling change for the complete system takes less than 20 minutes, when necessary.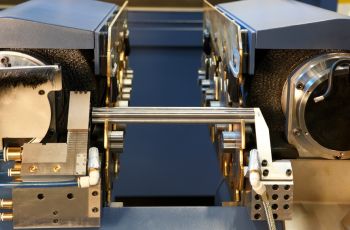 All critical sawing and machining parameters are monitored and controlled. Clamping forces and position, saw blade torque and vibration, plus machining insert torque are continuously displayed and monitored. Operating limits are set and machine functions stop when they are not met. Saw blade and tooling insert wear is predictable and consistent. Key data for each part produced are stored in memory for statistical evaluation.
Additional processes, engineered and manufactured by Rattunde, are easily integrated with the ACS + CFMcurve, including: part inspection stations, washing and drying, automatic packaging and automatic container changing, all available to further automate customer manufacturing.
The ACS + CFMcurve is available in three models with diameter ranges from 10mm to 102mm, 10mm to 136mm and 10mm to 169mm, with finished part lengths from 10mm to 3500 mm. All material types can be processed.
Want more information? Click below.
To watch video, click below.