New Technologies Can Replace Traditional Turning, Milling, and Grinding Processes on Various Auto Parts
Increasing demands made on precision and the push for the decrease of price of modern components is stretching traditional manufacturing processes to their limits. At IMTS in Chicago, EMAG will present three production technologies that complement or replace traditional processes such as turning, milling and grinding.
PECM for Nickel- and Titanium-Based Alloys
With its PECM technology (Precision Electro-Chemical Machining) EMAG presents a production process that opens up completely new fields of application. PECM is a process for the machining of high-alloyed materials, such as nickel- and titanium-based alloys. The disadvantages of traditional metal cutting – tool wear, mechanical stresses, micro-fissuring caused by heat, oxidization layering and the need for subsequent deburring operations – are eliminated, because this process is a non-contact one without heat input. All electro-chemical machining processes are characterized by stress-free material removal, smooth transition points and surfaces without ridge formations.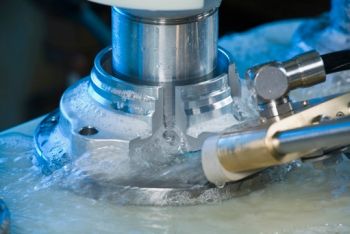 The ECM process is used to deburr components only at the points where material needs to be removed, and without it having any mechanical or thermal impact on the workpiece.
The advantages that the PECM process provides for different branches of industry are best shown with the example of a turbocharger for the automotive industry. The electro-chemical process is one that can be used in the machining of many high-alloy components, especially those in the high-temperature sector of the turbocharger – it also offers a much shorter and very efficient process chain. The typical clean-up operations necessary when traditional machining processes are used – such as deburring after milling - are no longer necessary. PECM machining operations are burr-free. And there is hardly any tool wear. The result: downtimes are minimal, when compared to milling (which requires regular tool changes). The process as a whole is sturdier and less prone to errors. And another important factor that our example of the turbocharger shows: the superb surface finish of the PECM process, where Rz-values of 0.3 micron can be achieved.
Will Camshafts Ever Again be Made of a Single Piece?
Heat-shrink assembly of camshafts for small-power and passenger car engines.
Another highlight is EMAG's heat-shrink assembly technology, a process that scores particularly well in camshaft production. The high degree of precision achieved with the joining process drastically reduces the number of cam profile grinding operations or – with the use of precision cams – avoids them altogether. Another benefit of the process is the ability to combine different materials in the construction of the shaft, such as forged cams (e.g. in 100Cr6) and sintered cams, which do not require regrinding. Accessory components, such as plugs and end pieces, can – like the shaft itself – also be made of better materials. This allows for the camshaft to be adapted to the requirements of the engine and to be optimized in load bearing capacity and manufacturing costs.
Operating Costs Reduced by 50%
Production laser welding is already a highly productive process in the manufacturing of gearwheels. The use of diode-pumped solid-state lasers – such as disc or fiber lasers –reduces operating costs by up to 50%.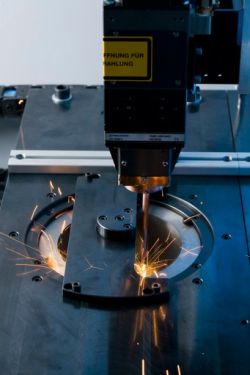 Operating costs are cut in half with the fiber laser on the new ELC 160 laser welding machine.
EMAG has been involved with the use of solid-state lasers in the welding of powertrain components from an early stage and is considered a pioneer in the technology. EMAG again has fulfilled a promise to their users offering them the lowest possible cost-per-piece, by coming up with an innovative technology that brings true cost benefits.
For many applications, solid-state lasers allow welding without shielding gas. This not only reduces operating costs, it also avoids having to follow the annoying logistics imposed by the use of shielding and laser operating gasses. In many cases, the welding process can also be sped up considerably. This increases productivity and – through a reduction in energy input per unit length – reduces welding distortion, resulting in better component quality.
Want more information? Click below.