Hydraulics Part Maker Employs a "Touch-It-Once", Single-Step Process to Drastically Reduce Set-Up and Cycle Times
Model Screw Products makes the impossible look easy by using Eurotech's 14-axis machine to improve part quality while minimizing damage and waste.
In the heart of Tampa bay, FL, minutes from the pristine beaches of Clearwater, you will find the progressive shop of Model Screw Products. With a focus on the hydraulics industry and "winning technology" from Eurotech, Model Screw Products is preparing to celebrate sixty-five years of business. "With the Eurotech machines we purchased, we can do what seems to be impossible and make it look easy," says Mike Upham, Director of Engineering.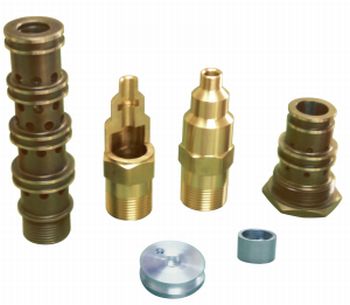 Model Screw Products was originally founded in Missouri in 1948 and moved to Clearwater in 1972. As you drive up to their 42,000 sq. ft. facility you are met with warm sunshine, palm trees and an impressive white and blue building that now houses a working team of 125 people.
Model Screw supplies parts mainly to the hydraulic industry such as Sun Hydraulics, Parker Hydraulics and Hydac; as well as military and automotive companies such as Chrysler, Caterpillar, John Deere and Cummins. "We have built over the years long and strong business relationships with our customers by delivering to their high standards," says John Wilcox, General Manager.
"Our Eurotech products allow us to complete a lot of operations at a single machine. We produce spools, sleeves, pistons and valve bodies on the Eurotech. We own a Eurotech Lico, an Elite 765Y3 and an Elite 465Y2. We have been able to reduce cycle times, reduce operations and handling." With these machines, Model Screw Products is able to create a single step process, which allows for less inventory, less personnel, and less scheduling headaches at multiple machines; they have also reduced the amount of overhead related to quality checks.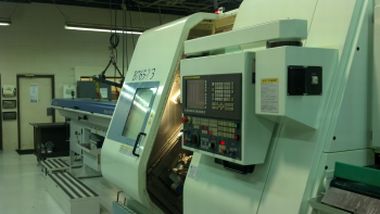 "Not only have the Eurotech products allowed us to complete a lot of operations at a single machine but they have also helped with quality issues and delivering on-time. We waste much less product. Eurotech brings in the "touch-it-once" mentality so there is less opportunity to damage the product," says Mike Upham, Director of Eng.
Example #1: Hot Tap Adapter -- This part used to be completed in a 3 step process, which has been reduced to a single step by the 14-axis Eurotech 765Y3. This has reduced the cycle time and operations while the quality of the part has increased, with a significant reduction in handling damage. The old process was a 12" bar sawed into blanks. Blanks are loaded by hand into an Okuma Cadet, this process took 2.5 minutes and required a full time operator; next, into a Hardinge Turret Lathe for 3 minutes. The new process with the Eurotech is run directly from the bar which doesn't require sawing of the blanks, and the machine is able to run unattended for periods of up to an hour. The only reason required for attendance is to move all the parts off the conveyer due to the part size.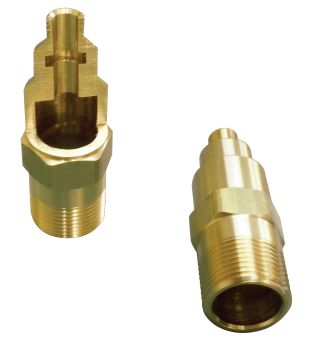 Old process: 5.5 minutes with a full time operator at each one of those operations
New process: Reduced the time to 2 minutes and 1 second
"One of the aspects of this part that we had to give special attention to was the cosmetic finish because the part is visible to the end user. There is also a deep internal groove which holds an o-ring, so quality is very important." Model Screw sells a total of 900 of these parts and a similar family part per month.
Example #2: 1 7/8" Hex Valve Body -- This part used to be completed in an 11 step process, which has been reduced to a 6 step process on one machine, complete before heat treating the part. This is done by a 14-axis Eurotech B765Y3. This has significantly reduced the cycle time and operations. On the Eurotech Model Screw is able to get 3 different tools in the cut at the same time in 2 different spindles. The old process was to setup on a 2 1/4" Wickman 6 Spindle Screw Machine, which took two or more days. Then it went through two different CNC turret lathes to complete the remainder of the internal part work. After this, it went to two automatic drilling machines to drill two sets of cross holes; and finally to heat treat and finishing processes. (All machining is complete before heat treating the part.)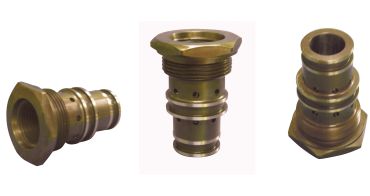 Old process: 21 hour set-up time and 7 minutes 25 seconds cycle time
New process: 6 hour set-up time and 2.5 minutes cycle time -- part complete
"One of the unique aspects of this process is how the Eurotech allowed us to orient the parts in any way, allowing us to drill holes and de-burr while it's still in the machine as opposed to doing it by hand." Model Screw sells a total of 430 of these parts and similar family parts per month.
Want more information? Click below.