Revolutionary New Metal-Cored Wire Helps Lawnmower Manufacturer Stay a Cut Above the Rest
Arkansas-based Bad Boys Mowers has always cut its own unique path. Recently, the company implemented metal-cored wire in its robotic cells and realized a 20% improvement in productivity.
What do fireworks and zero-turn commercial lawn mowers have in common? For most people, not much. But for Bad Boy Mowers of Batesville, Ark., the company can attribute its start and its edgy image to bottle rockets and M-80s, along with some serious innovation.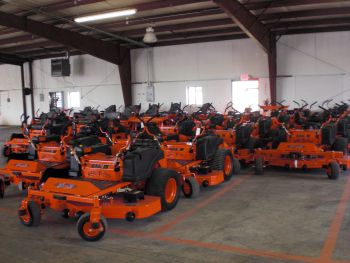 Bad Boy Mowers designs and manufactures zero-turn lawn mowers known worldwide for their reliability, durability and ease of maintenance.
Owners Robert Foster and Phil Pulley got their start in the fireworks business (and are still involved in it) before Foster decided to turn his attention and longtime interest in manufacturing to the development of a lawn mower that was more durable and easier to maintain. He had long been frustrated with the mowers available in the marketplace and felt he could develop one better. With Pulley's help and that of company Vice President Chuck Caldwell, plus a team of dedicated — and equally innovative — employees, Bad Boy Mowers is now one of the pre-eminent mower manufacturers in the world. They are arguably one of the more interesting ones, too. From spokespersons including Willie Nelson, George Jones and Merle Haggard to high-profile sponsorships of the Professional Bull Riding (PBR) association and involvement with MLB teams like the St. Louis Cardinals, the company has become as well-known for their bright orange mowers as for their unusual marketing techniques.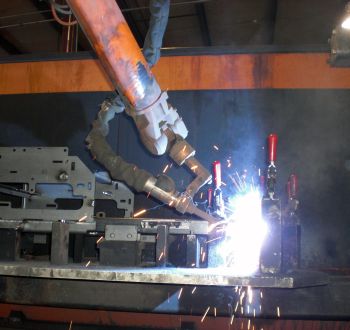 Bad Boy Mowers operates five robotic welding cells at its Batesville, Ark., manufacturing facilities, which since converting to Matrix metal-cored wire, are capable of producing components for up to 15 more mowers a day.
Two years ago, working with longtime local welding distributor Charlie Cartwright of Airgas Mid South, the company decided to trial a new metal-cored welding wire from Hobart Brothers in its mower manufacturing facility. The goal was to determine whether the wire could help increase their productivity. It did.
Today, the company has converted all of its robotic welding cells to Matrix™ metal-cored wire, paired with Auto-Axcess® Systems from Miller Electric Mfg. Co., and has found some welcome benefits along the way.
From Garage to Fab Shop…and Beyond
After spending two years in his garage developing the initial concepts for his first mower, Foster realized he needed the help of some friends to make his vision a reality. Relying on the fabrication expertise of Caldwell, along with another friend, James Russell, Foster developed Bad Boy Mowers' first fully functioning zero-turn radius commercial mower in 1998. He then relied on Pulley's business expertise to help set up the company's first fabrication shop in Diaz, Ark. The shop employed four people, including current shop supervisor, Heath Duncan, along with six others on the assembly line. Fabricators manually welded all components, with the combined production efforts of the assembly team, resulting in an output of three mowers a day.
To keep up with the increasing demand for mowers that the company has continued to experience since its inception, Foster and the team have moved their manufacturing operations into various, and increasingly larger, facilities. They now manufacture, assemble and store their mowers and MTVs in multiple buildings comprising over 650,000 square feet and have plans to expand even further. They have increased their employee count to over 300 and also attribute the company's success to the hard work and dedication of the Bad Boy Mowers "family" they have built.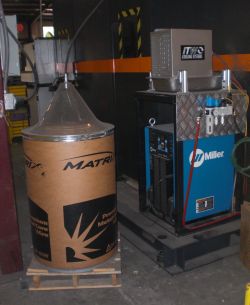 Since converting to Hobart Brothers Matrix metal-cored wire, Bad Boy Mowers has improved its productivity 20 percent per day.
"The people who work here are amazing," says Foree. "Smart, sharp people who know how to use their minds to innovate our products. You can tell that they love what they do and take pride in it."
Assessing the Welding Operation
In addition to adding staff to its manufacturing processes, Bad Boy Mowers has continued to refine their welding operations over the years. They now have seven robotic welding cells to weld the framework of the mowers, with plans to add an eighth cell shortly.
For many years, the company used solid wire — an industry standard among many manufacturers who operate robotic welding cells. While they were mostly satisfied with the results, Duncan and his manufacturing team found that the wire tended to generate spatter, which had to be ground before sending the mower decks and frames to the paint department. It also was prone to creating welds with porosity. When this weld defect occurred, welding operators had to gouge out the welds and rework them, another factor that prevented Bad Boy Mowers from achieving the high level of throughput it wanted and needed.
Two years ago, specialists from Hobart Brothers and Miller Electric Mfg. Co. approached Bad Boy Mowers with a proposition: to conduct a productivity study on their solid wire robotic welding operation and implement a trial of Matrix metal-cored wire in one robotic cell, which was already equipped with the Axcess system. Bad Boy Mowers agreed.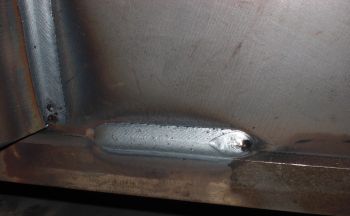 The Matrix metal-cored wire produces welds (as shown here) that are free of spatter, which minimizes the need for post-weld cleanup and allows parts at Bad Boy Mowers to proceed directly to the paint department.
The study consisted of a time trial that assessed the company's total welding cycle, including part movement, tack welding and tooling adjustments. It also measured arc-on time and the amount of time needed for non-value added activities (those that do not directly contribute to throughput), such as post-weld spatter cleanup.
After collecting the appropriate data, the Hobart Brothers specialists implemented the Matrix wire into the same robotic weld cell, adjusted the programming on the Axcess equipment and conducted another productivity study. The improvements with the Matrix wire were indisputable and Bad Boy Mowers agreed to the conversion.
The decision has not only helped the company increase its productivity, but has also helped them overcome some of the obstacles associated with their previous solid wire. And it brought forth additional benefits that they hadn't expected.
Maximizing the Manufacturing Process
Hobart Brothers specifically designed the Matrix metal-cored wire for robotic applications. As with other metal-cored wires, Matrix wires consist of a hollow metal sheath filled with metallic powders and/or alloys. Its tubular structure allows the wire to carry the welding current though the outside metal sheath to the workpiece instead of through the entire cross section as with solid wires. As a result, Matrix wire can carry higher current densities, plus provide higher deposition rates and faster travel speeds. The wire also offers excellent seam tracking and touch sensing, important features for robotic welding applications like those at Bad Boy Mowers.
According to Casey Medley, a welding operator overseeing one robotic welding cell at Bad Boy Mowers, the increased travel speeds are considerable.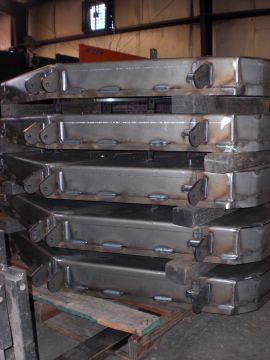 Stacks of welded mower decks surround the robotic weld cells at Bad Boy Mowers, attesting to the company's high level of productivity each day.
"I've noticed a big difference," Medley explains. "We've upped our per-day quota because of that and can get out a lot more products now."
The company has also been able to eliminate its problems with porosity and spatter. Because of its structure and chemistry, the Matrix wire produces a broad, cone-shaped arc with little to no spatter. It also has a wide penetration profile that creates a consistent weld bead shape with excellent crack resistance, minimal silicon islands, and it "wets in" to the weld joint more smoothly than the company's previous solid wire. As a result, Bad Boy Mowers no longer need a dedicated employee to grind spatter or rework welded parts due to porosity. They simply stack the finished product for shipment directly to the paint department, a benefit appreciated by welding operator, Robert Cox.
"There is so much less spatter now," he explains. "We don't have to worry about cleanup anymore. It's just a lot quicker process."
The use of the Miller® Auto-Axcess System also plays an integral role in maximizing these benefits and adding new ones. Specifically, the system has allowed Bad Boy Mowers to reduce the size of its welds (from 1/4-inch to 3/16-inch fillet welds) to gain greater sidewall penetration, and it has reduced the amount of wire needed to get high-quality, porosity- and spatter-free welds.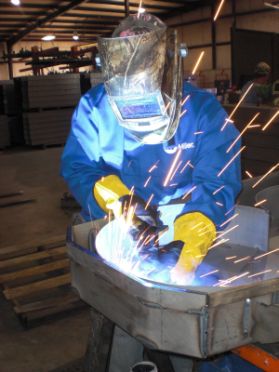 Bad Boy Mowers requires semi-automatic welding of various components on its mowers, as shown here by welding operator Robert Cox.
Bad Boy Mowers has also discovered an added benefit that is unique to Matrix, even compared to other metal-cored wires. Through a proprietary manufacturing process, the wire is able to provide smoother wire feeding, and according to testing, more accurate arc starting capabilities than other comparably classified wires. Because of these features, Bad Boy Mowers has not just been able to improve their speed and quality, but they also have been able to reduce contact tip usage and minimize downtime for changeover.
"Last year, we had to change out five to six contact tips a day," explains Medley. "With the new wire, we change maybe one to two a day now. It's saving us a lot of time."
Breaking Down the Benefits
According to Duncan, the cumulative effect of each of the Matrix wire's benefits has had a significant impact on Bad Boy Mowers' overall productivity.
"We are turning out two to three more mowers per robot, per day with the Matrix wire. That's up to 15 more mowers total daily." Duncan says. "And about 20 percent more than we could produce before."
For a company like Bad Boy Mowers, the productivity and quality improvements it has experienced are essential to remaining competitive and keeping up with customer demands. It's also important to helping preserve the integrity of its products and the pride that Bad Boy Mowers employees take in their work.
"In the end, when one of our mowers comes off the line, we pretty much trust that everything about it is right," states Foree. "That's because our employees really care. And that's the most important thing."
Want more information? Click below.