New HMC Reduces Cutting Time and Handles Tight Tolerances in Hard-to-Cut Materials
Among the newest horizontal machining centers to be displayed at IMTS is Doosan's NHM5000 – a highly rigid, power-packed workhorse that's designed to achieve tight tolerances in hard-to-cut materials, while machining parts as large as 33.5" x 43.3".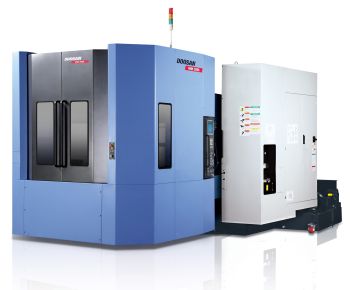 At its heart is a massive, one-piece casting that provides a rigid base for the table and column. The bed consists of fine-grain Meehanite to dampen vibration and dissipate heat. Ribs are strategically located to improve rigidity. The integral box ways are induction hardened, precision ground, and coated with a low-friction fluoroplastic resin for longer life, maximum rigidity, and greater precision.
Powering the spindle is a 25 Hp, 2-geared motor that generates speeds up to 6,000 rpm, and produces 704 ft-lbs of low-end torque. A refrigerated spindle cooling system maintains a constant spindle temperature for high accuracy, regardless of ambient temperature or cutting conditions. Coolant circulates through jackets in the spindle head as well as through the gearbox.
Feeding the spindle is a servo-driven ATC that accommodates 60 tools (up to 376 optional) 50-taper, with maximum diameters of 12.6" and lengths of 20.9". The Big Plus dual contact system allows contact between the machine spindle face and the tool holder flange face, and at the same time between the machine spindle taper and the tool holder taper shank. The result is higher rigidity, better ATC repeatability, superior surface finish, and extended tool life. Tool-to-tool time is a quick 2.0 seconds.
The NHM5000's APC is equipped with a rotary-type, high-speed servo motor with reducing gear. This enables fast, 9.6 second pallet changes, with a high degree of reliability. Its table measures 19.7" x 19.7", supports a load of 1,764 lbs., and indexes to 4 x 90 degrees.
Additional features include a ball-screw nut cooling system as a standard, and ball-screw shaft cooling as an option. Coolant is also used to flush chips from the spindle and slide covers. The coolant tank's capacity is 218 gallons. An oil skimmer is included to remove tramp oils, and to reduce the cost of coolant disposal.
Want more information? Click below.