New Cryogenic AutoDrill Features Ultra-Precise Cutting Head that Produces Extreme Accuracy on Countersink Depth
MAG's new 6-axis FTR AutoDrill combines a rigid boring mill chassis and its extended-reach ram with a nimble, powerful gimbal head for ultra-precise milling and drilling on massive composite and sandwich structures. The first FTR AutoDrill, equipped with MAG's multi-patented MQC (Minimum Quantity Cryogenic) tool cooling technology, will be used by Boeing at its South Carolina site, beginning in Q2 2013.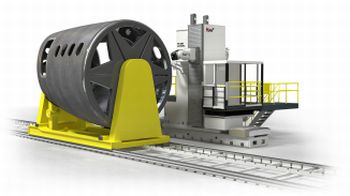 "The new FTR AutoDrill is a great example of MAG's unique approach to delivering innovative solutions that offer the highest level of technology with low risk-production implications," said Chip Storie, MAG Executive Vice President. "By utilizing high-quality, production-proven components combined with breakthrough technologies, such as MQC, we are able to deliver a highly productive, cost-effective machine to flawlessly process high-value 787 fuselage barrels." The machine's capabilities include drilling assembly holes and milling section edges, windows, and door cut outs.
Unique in the industry, this machine will be equipped with MQC liquid-nitrogen tool cooling. MQC yields smoother cuts, increased process speeds, longer tool life, and reduced frictional heat and material adhesion. MQC is also eco-friendly, producing dry chips without releasing airborne mists or greenhouse gases. MQC delivers liquid nitrogen at -321°F (-196°C) through the spindle, directly to the tool tip and cutting zone. According to Michael Judge, MAG Vice President of Cryogenic Business Development, the key to MQC's effectiveness is plumbing liquid nitrogen through the insert to allow a heat-sink effect rather than traditional chip zone cooling. "Cryogenic machining has never been done this efficiently before, with liquid nitrogen passed through the spindle and through the insert," he explained. "Through-tool cooling provides the most efficient heat transfer model and consumes the least amount of liquid nitrogen, with flow rates of less than 0.1 liter per minute per cutting edge."
The FTR Design
The FTR AutoDrill is a hybrid floor-type horizontal boring mill equipped with a unique 2-axis spindle carrier. It incorporates an ultra-precise machining head capable of extreme countersink accuracy, utilizing a Fischer 15-kW (20-hp) 24,000-rpm spindle equipped with HSK-50A tool interface and power drawbar. The head uses a special pressure foot to sense part location, while laser sensors in the head measure the distance to the work surface and the normality of the approach angle. This real-time mold line sensing system ensures drilling is perpendicular to the skin.
The boring mill chassis, with its heavily ribbed, cast iron column and stiff guideway system, provides high rigidity and vibration damping for exceptional stability while machining at high speeds. The traveling-column design has an X-Y-Z work range of 12 x 3 x 1.4 m (472 x 118 x 55 in), with X-Y repeatability of 0.0076 mm (0.0003 in) and Z-axis repeatability of 0.020 mm (0.0008 in). A feed rate of 20,000 mm/min (787 ipm) for X and Y axes allows rapid and efficient machining of large components. An electrically-preloaded rack-and-pinion system drives the X axis with high accuracy, while the Y axis is driven with twin ballscrews. Precision roller packs on X, Y and Z axes provide stability, low friction, durability and maintainability.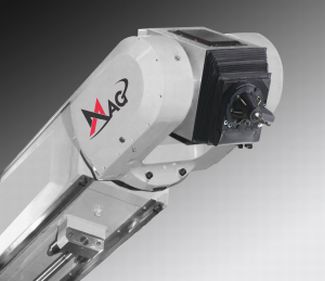 The cast-steel ram carrying the machining head utilizes hydraulic tension-rod displacement compensation to maintain tool point accuracy over its full 1.4 m (55 in) extension. The gimbal machining head is integrated with the ram and provides ±200° of C-axis rotation and ±90° of A-axis tilt. High-performance torque motors on the A and C axes allow positioning rates up to 60 degrees/sec (10 rpm). A W-axis drilling quill provides 100 mm (3.98 in) feed stroke perpendicular to the Z-axis for precision drilling.
A column-mounted double-arm tool changer and 30-pocket drum-type tool magazine travel with the column to maximize in-cut time. Additional efficiency enhancements include Renishaw TS27R toolsetting probe and RMP 600 strain-gage spindle probe. The operator's platform that travels with the column includes a 482 mm (19 in) flat panel monitor for visual observation of the work zone.
Want more information? Click below.