Simple Change in Milling Cutter and Sequencing Enables Manufacturer to Produce 4,800 Additional Components a Year
In response to growing demands for higher productivity, a team of experts found a way to add 800 hours of capacity to an existing machine.
At Bonfiglioli India's Chennai plant, the air is hot and humid. It's early summer and the sky is overcast with monsoon clouds. The factory, a white, high-ceilinged building set amid trees and flowering bushes, is working full time to keep up with the burgeoning demand of India's economic boom.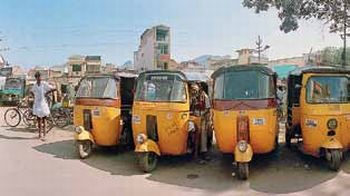 Chennai, India
In his office, Bonfiglioli's chief operations office, Kennady V. Kaippally, points to a chart that lists the new products planned for the year. Of the 30 products, many are in the wind power solutions segment, with most of the others in the mobile applications segment.
Bonfiglioli India has traditionally been a leader in the wind solutions segment, with an almost 95 percent market share in gearboxes for wind turbines, supplying to all leading wind energy producers.
Since 2010, however, it has also been working to ramp up its mobile application product portfolio, to keep up with the increased demand from India's exploding construction sector. Add to that the strong demand from Bonfiglioli's assembly plant in China for it's wind solutions products, as well as a fast-growing domestic market for wind turbines, and it is little wonder that Bonfiglioli India is looking constantly at ways to improve production.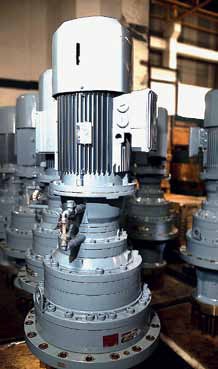 Bonfiglioli India has nearly 95 percent market share in gearboxes for wind turbines.
"While we have added machines and made investments in the past two years, we are limited now by space", says Kaippally.
"This makes a demand for an increase in productivity on our existing machines even more important."
This is where Sandvik Coromant India and its team of engineers with their Productivity Improvement Program (PIP) come in. "We have had an association with them for the past 10 years," says Bonfiglioli CEO Muthuswamy Ganesh.
"Whenever we have a problem or feel there can be an increase in productivity in a certain critical area or bottleneck, we call Sandvik Coromant in," adds Mrinal Kanti Haldar, Bonfiglioli's head of manufacturing.
Consequently, in 2009, the Bonfiglioli team called in Sandvik Coromant to help when certain key bottlenecks emerged.
One of the more critical issues turned out to be on one of the facility's newer machines, a Mazak Integrex i-300. With the demand for planetary gears up from both the domestic market and from China, the two companies felt there was potential for a reduction in the cycle time of this machine, leading to greater productivity.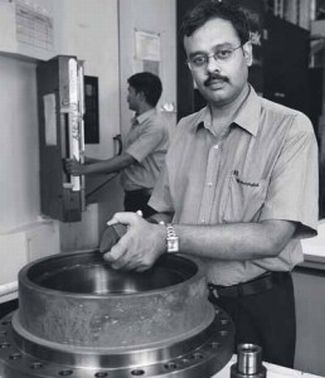 Senthil Kumar Subramaniam, Deputy Manger of Production, Bonfiglioli.
The team spent two days at the factory observing the processes before coming up with recommendations – a change in the existing tooling to the Sandvik Coromant cutter CoroMill 390 and a change in the sequencing of operations to further reduce cycle time. "Because of this, the cycle time was reduced from 14 minutes to 10, so we achieved 800 hours of additional capacity," says Senthil Kuman Subramaniam, deputy manager of production. "We could use the machine for 4,800 additional components a year with no additional resources."
Senthil Kuma mentions another increase in productivity, this one on the Mazak Integrex e-800V machine used to manufacture housing components for planetary gears.
"This machine, which finishes the housing components [used mainly for wind gearboxes], was becoming a bottleneck," he says. "They recommended changing the size of the inserts on the tool. This change of tooling increased our productivity. Bigger inserts increased the depth of cuts, thus minimizing the number of passes and reducing the cycle time."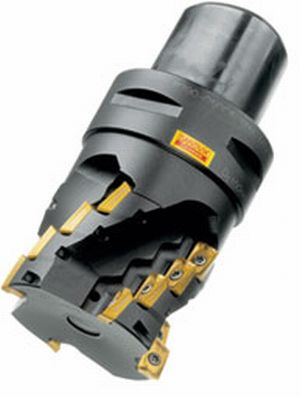 CoroMill 390 is available with integrated dampening for a productive and vibration-free machining.
"At Sandvik Coromant, they have tenacity and interest, and they are ready to develop new products," Haldar adds.
The two partners scored another success in new product development. "We had a bottleneck with gear machining, which has traditionally been a strength area for us," Kaippally recalls. "We have the latest machines and the latest technology, so we didn't expect there to be much scope for improvement. But Sandvik Coromant suprised us."
Manivannan Murugan, assistant manager or production explains, "The problem in this section was the gear milling machine inserts, which have a very short life. We had to replace inserts sometimes as often as two times a shift, six times a day, leading to work stoppages and loss of productivity. Our target was to replace the inserts once a day."
Bonfiglioli called in Sandvik Coromant engineers, who designed a special insert. The new insert proved much more effective, requiring less-frequent chaning, which led to an increase in productivity and longer tool life.
There was another benefit too. "We do not need to import these inserts anymore, because they have the product available off the shelf," says Kaippally.
Want more information? Click below.