Powerful Coolant Cleaner's Unique Magnetic Circuit Design Maximizes Particle Capture and Removal
Eriez Magnetic Coolant Cleaners are designed for use with surface grinders, gear grinders, honing and lapping machines, broaches, milling and drilling machines, face grinders, oil reclaiming machines or wherever clean coolant is needed.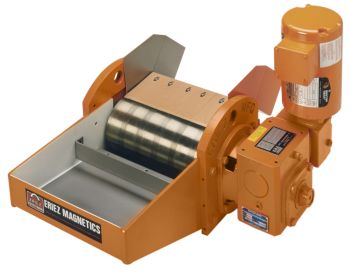 Permanent Magnetic Coolant Cleaners are available in 36 standard units to match users' requirements of flow rate, viscosity and degree of separation desired. These models come in nine magnetic roll widths ranging from 7 to 70 inches (178 to 1780 mm). Two types of rolls are offered. For normal conditions, a smooth faced roll is used. For an even more powerful magnetic field, best for removing micron-sized particles, extended-pole plates are provided.
The Eriez Xtractor® Rare Earth Coolant Cleaner uses a powerful magnetic field designed to maximize capture and removal of fine ferrous particles from a coolant. Its unique magnetic circuit design makes the separator much stronger than all other conventional permanent magnetic separators that use alnico or barium ferrite elements.
Available in four sizes, the unit will handle up to 30 gallons per minute of water-soluble coolant per foot of drum width (4 lpm per cm of width). Each model is powered by a standard TEFC 230/460V, 60 Hz, 3-phase motor.
Eriez Xtractor Rare Earth Coolant Cleaners can be used in any open process to remove fine ferrous contaminant from slurry. These units also remove grinding swarf to help machine tools run longer and maintain accuracy.
Want more information? Click below.
Copyright © 2019 by Nelson Publishing, Inc. All rights reserved. Reproduction Prohibited.
View our terms of use and
privacy policy
::m::