New 5-Axis HMC Offers Large Working Area; Ideal for Aerospace Alloy Machining
Titanium and nickel alloys are widely used throughout the world of aerospace today. However, the high strength of titanium results in high thermal stress and wear of the cutting edge during machining. That is why high torque and low speed are a must when performing milling operations.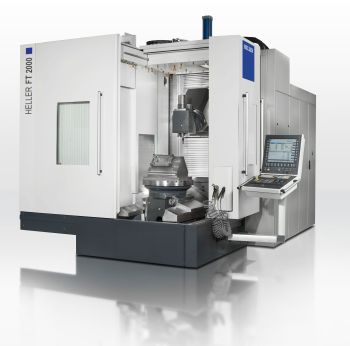 The versatile Heller F series HMCs for 5-axis simultaneous machining comes with three high performance spindle options for different cutting conditions and part configurations. Each HELLER machine delivers high torque at low speeds during milling, including simultaneous machining in five axes, ideal for complex contouring.
The new HELLER 5-axis machining center F2000 with swivel head includes many proven machine components from HELLER's modular machining center line and offers a large working area of 800X800X1000, (X, Y, Z). It can accommodate a 630mm pallet and 3080-lb workiece.
With three different high-performance spindles, the line offers options to machine smaller, lighter parts, frequently of tough material such as titanium, and aluminum parts that require high-speed machining.
The swivel-head provides a fifth axis that delivers a constantly high cutting performance in horizontal and vertical position as well as any spatial angle. This is of special importance for aerospace applications. The proven 5-axis kinematics provided by the tool in X, Y, C or A and two axes provided by the workpiece in the Z and B axis provide the user high precision, machining versatility and high dynamics.
According to the company, "After intensive market research, Heller engineers determined that the most flexible, robust, and efficient way to do 5-face and 5-axis machining is to have one of the axes in the work head. Using a B-axis table in combination with a universal or tilting work head allows greater table loads, larger working envelops and greater accessibility than 5-axis machines that have two axes of motion under the workpiece, such as a tilt/rotary table or C-over-B type."
The machine structure and axis design have been specifically tailored to the special requirements of 5-axis machining and it includes a HSK63 spindle taper and 242 Nm torque has been specifically designed for high performance.
Three High-Performance Spindles
At the core of the F series machines is the innovative spindle technology. The PCU 63 is for high-performance cutting with speeds up to 10,000 RPM, power up to 44kW and torque up 244 Nm. Two other spindles go up to 16,000 RPM with 40kW of power and 80Nm of torque: the SCU 63 and the SCT 63 Tilt spindle. The SCT-63 is an A-axis head, in contrast to the others that are C-Axis. The A-axis provides even more flexibility in cutting complex shapes.
The two swivel-head units offer numerous advantages for complete machining of cubic parts in a single set-up, and the tilting head is ideal for machining of contoured surfaces of any kind, thus making it the perfect entry into 5-axis simultaneous machining, especially for aerospace applications.
The use of the swivel spindle with HSK63 spindle taper provides cost savings and smoother running of the machine during the machining process. As a result, a top-quality surface finish and a significantly higher tool life and higher process stability can be achieved.
Want more information? Click below.