The Vote is in! Winner Chosen for IMTS Rally Car Design
You voted! And the first-ever IMTS 2012 Rally Fighter Graphic CarSkin Competition winner was Heather True, Marketing Assistant/Graphic Designer at BIG Kaiser Precision Tooling Inc.
Heather's IMTS Rally Car design was chosen from the 32 entries. "We are delighted to see the excitement and response to the competition. All 32 entries were winners in our eyes and we're excited to see Heather's entry rise to the top. She really captured the essence of the manufacturing technology industry and the show in her design," said Peter Eelman, IMTS Vice President – Exhibitions and Communications.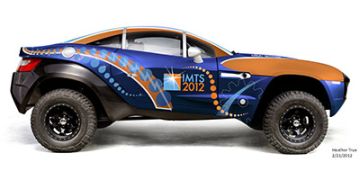 As the designer of the winning skin, Heather will receive $1,050 along with highlighted status on The Forge and exclusive Local Motors winner's gear.
The Rally Fighter Graphic CarSkin Competition is Heather's first design competition. "When I found out about the Rally Fighter Skin Competition at the IMTS Exhibitor Workshop in January, I was very excited to get an opportunity to participate in this competition, Heather said. "Since this was my first skin design, I began by paying attention to how other racing cars were designed to gather inspiration. As soon as the competition began, and I got the design details, I went to work researching IMTS and Local Motors. I wanted to create a car that would work well with the look and feel of IMTS."
She began with the flattened layout of the car and worked in Adobe Illustrator to come up with the initial design. The Local Motors design community were a big help to her. "It was nice to be able to submit early designs and get feedback," she explained. "I then went back to the drawing board and incorporated the IMTS icons to represent the different forms of manufacturing technology. I was inspired by the shape and feel of the icons, logos and themes from past and present IMTS shows. There were some great designs in this competition. It is always a great thrill to see what other designers do with their talent; I am inspired on a daily basis."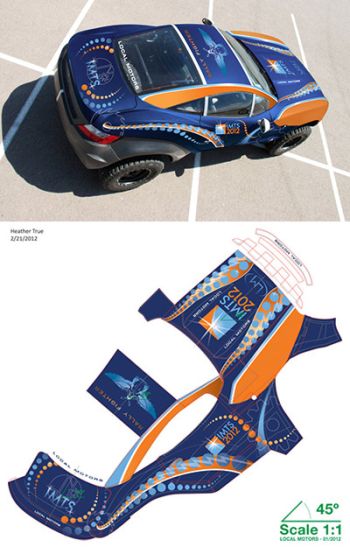 "It's thrilling to see this type of connection and collaborative development happen at near warp speed," said John B. Rogers, Jr., President, Co-Founder & CEO of Local Motors. "The implications are enormous and will change not only the way we pursue design, but also engineering development and manufacturing at large. Congratulations to Heather for earning her first podium finish, and welcome to the community!"
Heather has worked as a graphic designer for nine years, focusing mainly on print media including catalogs, sales collateral, exhibit graphics and promotional items.
"IMTS has been a big part of my life for the last 4 years. I am just overwhelmed that my design was picked," she said. "For me, IMTS is about being able to meet the people who work in the industry and hear how they use our tooling, or how we may be able to provide them with solutions to help their shop run more efficiently. Every 2 years I fall in love all over again with IMTS. The sheer size of the event is enough to make anyone's jaw drop. Preshow is amazing to watch. McCormick Place changes from a land of concrete to a world filled with the newest manufacturing technology. It sends all my senses on a 6-day adventure."
To highlight the current and future impact of collaborative manufacturing, Heather's skin design will be applied to one of two IMTS Rally Fighters, which will be showcased at IMTS. The Rally Fighter featuring this winning design will be built at the Local Motors micro-factory in Chandler, Ariz., this month and will travel to various events on its way to IMTS in September. The other will be built live by the Local Motors team on the actual IMTS show floor as part of the Emerging Technology Center (ETC).
Another CarSkin competition in early summer will determine the skin for the IMTS Rally Fighter being built on the show floor in the ETC.
Want more information? Click below.