New Discover Technology Webinar Series is Fast, Free, and Full of Manufacturing Solutions
Mazak has introduced a Discover Technology Webinar Series that easily connects manufacturers with industry experts on the latest machine tool trends.
"This webinar series is a natural extension and complement to our Discover More With Mazak series of live events, which take place at our eight regional Technology Centers across North America," said Chuck Birkle, vice president of sales and marketing for Mazak Corporation. "These webinars help bridge the technology gap for our customers, keeping them in front of the latest manufacturing advancements and solution ideas for various industry segments in between events."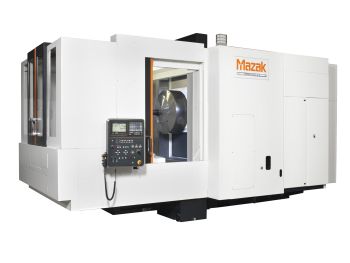 The Discover Technology Webinars are free, interactive and approximately 60 minutes long. All it takes to participate is a computer, an Internet connection and a web browser, and a manufacturer is ready to gain powerful knowledge on how to stay competitive and profitable in today's challenging global marketplace.
The first webinar in the Discover Technology Series "Orbitec 20: Innovative Solutions for Valve Manufacturing" will take place on Wednesday, March 28 at 2 p.m. Eastern time.
The webinar is ideal for manufacturers of large valve bodies or companies that machine turned features on big, odd-shaped parts. Participants will learn how the Mazak ORBITEC 20 brings a new world of possibilities to the precise machining of such challenging components.
During the webinar, participants will also:
Discover how the Mazak ORBITEC 20 employs a wholly unique headstock to creatively perform multiple turning, boring, grooving, facing and threading operations with a stationary workpiece.
Hear how the ORBITEC 20 can accurately generate turned features with phonographic finishes in solid stainless steel.
Learn how the ORBITEC 20, HORIZONTAL CENTER NEXUS 6000 and INTEGREX i630V 5-axis machine, all featuring 630mm pallets, easily integrate with the PALLETE CH system to create a Multi-Tasking Solution with unsurpassed productivity advantages.
To Register for "Orbitec 20: Innovative Solutions for Valve Manufacturing", or for more information, click below.
Upcoming Discover Technology Webinars:
May 23, 2012 – 2 p.m. Eastern time Demystifying 5-Axis Post Processors
July 11, 2012 – 2 p.m. Eastern time Turbine Blade Manufacturing in Multi-Tasking
September 2012 – Special Presentations from IMTS MTConnect and Downstream Solutions Digital Simulation and PALLETECH Automation
November 14, 2012 – 2 p.m. Eastern time Spiral Bevel Gear Manufacturing