New Turning Centers Ideal for 2-Axis High-Precision Machining or Complex Multi-Tasking Operations
Hardinge Inc. has announced the release of their newest and most advanced CNC machines, the T-51 and T-65 SUPER-PRECISION® and High-Performance Turning Centers.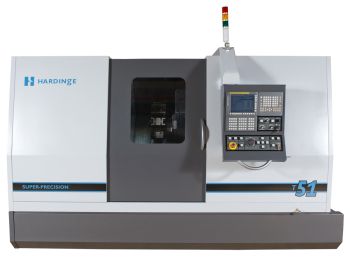 The release of these new model T-Series machines follows the introduction of the T-42 turning center.
The T-51 and T-65 are ideal for two axis high precision machining or complex multi-tasking operations that require a high level of precision, delicate part handling and parts made complete in a single setup. High-Performance and SUPER-PRECISION® machine packages are pre-configured with their most popular features allowing users to select the proper machine tool configuration and precision level to produce parts in the most effective, accurate, and profitable manner.
Packages are available to choose from with features that include but are not limited to: Live Tooling with C-axis, Sub Spindle, Y-axis, Main Spindle Parts Catcher, and their unique Sub Spindle Parts Catcher designed for removing delicate high precision parts with critical surface finish requirements without damage to the part.
The Hardinge T-51 and T-65 machines feature:
5000 RPM, 2" bar capacity, A2-6", 20 HP, collet-ready spindle
12 turret stations (all live tooling capable)
Hardinge exclusive HARCRETE® reinforced cast iron base for unmatched stability
Custom macro B
Linear glass scales on each axis (SUPER-PRECISION® models)
Part surface finishes of 12 micro-inches on High Performance models and 8 micro-inches on SUPER-PRECISION® models
Wide range of options such as Sub Spindle, Live Tooling and Y-Axis
Fanuc 31i Control
A company spokesperson noted, "These two new products solidify our leadership in the field of SUPER-PRECISION® turning as well as our commitment to producing the highest quality machines for the global marketplace. We are proud to add these exceptional new machines to our product line".
Want more information? Click below.
Copyright © 2019 by Nelson Publishing, Inc. All rights reserved. Reproduction Prohibited.
View our terms of use and
privacy policy
::m::