New Jersey Steel Supplier Helps with 9/11 Memorial Project
Leading 4130 and 4340 aircraft quality steel supplier Benedict-Miller.com responds to call from Kenilworth Fire Department for help with the community's 9/11 Memorial construction project.
Headquartered in Kenilworth, NJ, Benedict-Miller is a leading supplier worldwide of 4130 and 4340 aircraft quality steel and metal processing services.
The company was honored to be contacted by the Kenilworth Fire Department when help was needed with a piece of a steel beam from one of the Twin Towers which was given to the Kenilworth Volunteer Fire Department and Rescue Squad for responding to the tragedy.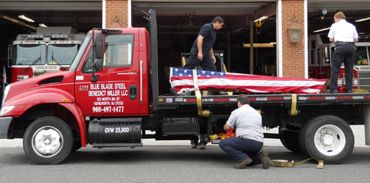 The KFD was donating the steel for use in the Kenilworth 9/11 Memorial honoring victims, their families, and the First Responders Sgt. Robert Kaulfers, Mr. John Tobin, and Mr. John Ueltzhoeffer, all of whom had ties to the Borough and all of whom lost their lives in the attack on the World Trade Center. Benedict-Miller responded to the request for help by donating the company's vehicles, equipment, manpower, materials and time.
"We have a terrific community here in Kenilworth," said Jerry Shaw, Sr., CEO & Owner of Benedict-Miller, "and Benedict-Miller is proud to be an active member. The loss of community members in the attack on the World Trade Center in 2001 affected all of us. I was honored to have the opportunity to show support for my community by offering whatever assistance I could to the Kenilworth Fire Department so that our fallen heroes could be remembered with the dignity and respect they deserve."
To Watch Video, click below.
Kenilworth 9/11 Memorial Project
Copyright © 2019 by Nelson Publishing, Inc. All rights reserved. Reproduction Prohibited.
View our terms of use and
privacy policy
::m::