New Sanitizer Kills Coronavirus in Manufacturing Facilities
Madison Chemical introduces MADISAN 75 (EPA #10324-81-110), a 4-chain quaternary surface sanitizer, disinfectant, mildewstat, and virucide for hard, non-porous and inanimate surfaces in various settings including industrial/manufacturing facilities, commercial entities, and more.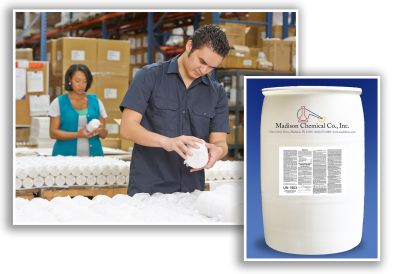 MADISAN 75 kills the Human Coronavirus, Human Immunodeficiency Virus Type 1 (HIV-1), Hepatitis B Virus (HBV), Hepatitis C Virus (HCV) and a variety of animal viruses specified on the EPA registered label.
MADISAN 75 appears on EPA List N: Disinfectants for Use Against SARS-CoV-2. It is ideal for a range of industries and applications, including industrial/manufacturing facilities, transportation, schools, restaurants, as well as hospitals and healthcare facilities, nursing homes, food and beverage processing, and more.
MADISAN 75 sanitizes hard, non-porous surfaces/objects at 3.5 oz. per 4.5 gallons of water (450 ppm active quat). It may be applied using a sponge, brush, cloth, mop, or by immersion or other applications specified on the EPA label. Treated surfaces must remain wet for 10 minutes.
MADISAN 75 also reduces a wide variety of pathogenic bacteria, including listeria monocytogenes, Salmonella enterica, Staphylococcus aureus, Escherichia coli, and more.
Want more information? Click below.